When it comes to school dress codes, outfit planning can be suuuper frustrating. What are you supposed to wear? How do you feel confident when your closet is limited? Believe me, I've been in your situation more times than I can count. So here I am to tell you: stress no more, I got you covered!
Outfit Idea #1
How can you go wrong with a sweatshirt and jeans? Throw in a turtleneck underneath, pair it with some Converse, and you're all set! If you're into the vintage style, this is such an easy outfit to put together. I love this look for the colder weather–it's comfortable and will most definitely keep you warm.
Outfit Idea #2
Now I know that some schools are pretty strict about showing your shoulders (for some strange reason), but if yours isn't, this outfit idea is one you need to try! A simple, plain tank top goes a long way when matched with patterned pants.
Outfit Idea #3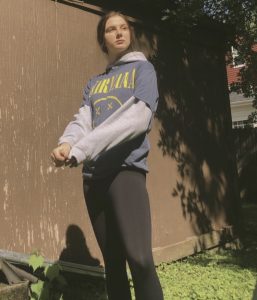 I know I'm not the only one who could live in hoodies and leggings. No matter how many clothes I buy, I always find myself crawling back to the loungewear style. So how can you spice it up? The answer is simple–just add your favorite tee on top! I prefer mine to be oversized as it's more breathable, but any size will do. Maybe pick a tee of your favorite band, YouTuber, etc. Be creative with it!
And that concludes today's blog post! Was I able to give you some useful outfit inspiration for the school year? Thanks so much for stopping by, and as always, I hope to see you again soon! 🙂
Love, Brenna