The amount of money that I've spent on random skincare products makes me cringe–I was just so desperate to get rid of my acne. Then, one day, I stumbled across Hyram on YouTube! Let me tell you, ever since I found out about his channel, I've learned sooo much about my skin and its needs. I strongly suggest watching his videos as they are super informative and realistic. Anyways, today I wanted to walk you through my skincare routine and tell you a bit about the products (Hyram-approved) that truly saved my skin!
Morning: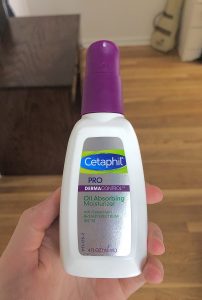 Ok soo, first of all, I want to start by saying that I don't use a cleanser in the morning. Everyone's skin is different, but I feel that it can be too stripping for mine. Instead, I just splash my face with water. Now for the products:
The Ordinary Niacinamide 10% Zinc 1% Serum: This is the first step/item in my skincare routine that I use every morning, and I absolutely LOVE it! Niacinamide is genuinely one of the best ingredients for your skin–especially for those of you who struggle with acne and breakouts. It reduces inflammation, oil and sebum, and brightens acne scars/discoloration. I 100% recommend this serum!
Cetaphil Pro DermaControl Oil Absorbing Moisturizer SPF 30: This is the second step in my skincare routine. I normally have pretty oily skin, so it was hard finding a moisturizer that didn't cause breakouts or make me look oily. Until, of course, I found this one! It has a really light feeling which I love. It's also extremely important to wear sunscreen every day to avoid discoloration, quick aging, and damage, so it's very helpful that this moisturizer has SPF 30.
Burt's Bees Beeswax Lip Balm with Vitamin E & Peppermint: The final step in my morning skincare routine is to moisturize my lips! I feel like this a step quite a few people skip, but it's just as important! I love the smell of the peppermint chapstick, but there are so many other scents to choose from.
Night: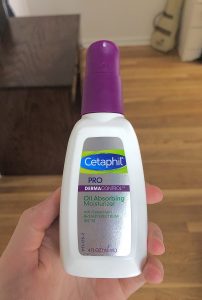 As you can see, my nighttime skincare routine is pretty much the same as my morning one. The only difference is the first product!
The Inkey List Salicylic Acid Cleanser: Like niacinamide, salicylic acid is another amazing ingredient to add to your skincare routine. It removes the dirt, bacteria, and dead skin cells from your pores. It also helps brighten any acne scars or discoloration. This is by far my favorite cleanser!
Then, I repeat the same steps as the morning by going in with my moisturizer and lip balm.
And that concludes today's blog post! Thanks so much for stopping by, and as always, I hope to see you again soon!
Love, Brenna