Last weekend, a couple of my friends and I attended a lights festival held at our city's zoo. I had never been to one until now, and it was a breathtaking experience! It was all socially distanced, of course, and it was helpful that the number of people allowed in at a time was limited.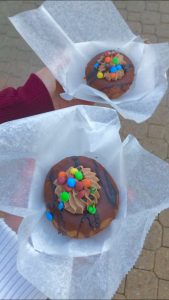 Okay I know this isn't a picture of lights, but I had to include it because these donuts were so good! Before walking around, my friends and I ate dinner and went to a cute little donut stand for dessert. There were so many options, and I ended up getting an M&M one!
Once it got dark outside, we started down the path to the lights–these were our first two stops. I love the mushroom lights!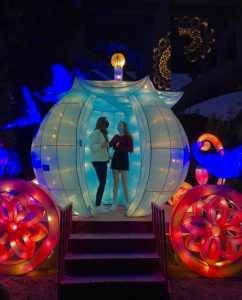 This was 100% my favorite light decoration! I think the "bubble" you can go inside of added such a creative touch to it. The colors also complement each other so nicely!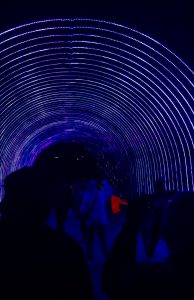 At the zoo, they had a couple of tunnel-like lights. This particular one changed colors as we walked through, making it look like a disco!
These lights were closer to the end, and they were so pretty! We got some good pictures in these areas.
It's kind of hard to tell because of how dark it was, but in the first photo, the designs were in the water which made them even more interesting! The second picture is one of us walking towards the end of the path and through a fish decoration!
This makes me laugh because I wanted to take a pic on our way out, but no one joined me… so I just awkwardly stood there by myself, lol! Anyways, I heard that a lot of people propose under this ring, which is super cute–especially since the lights festival is only around for one weekend a year, so they go all-out with decorations.
And that concludes today's blog post! If you ever get the chance to go to a lights festival, do it! It's beautiful. Thanks so much for stopping by, and as always, I hope to see you again soon!
Love, Brenna